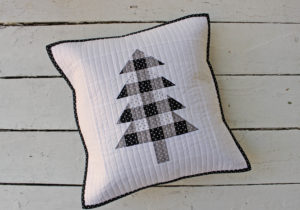 If you've ever been over to my Etsy shop, you'll know that I have several patterns where instead of using plaid fabric, the plaid sections are all patchwork pieced. It's a great way to get a perfectly aligned plaid section in the shape and color you want! You just choose a dark, medium, and light/low volume print and you're on your way to making your own plaid block. With the block below, I choose several Riley Blake Swiss Dot prints to make an easy plaid tree: black for the dark print, gray for the medium print, and a low volume gray dot on white for the light print. It's always so fun to see the block go from just a few prints into a perfectly plaid quilt block!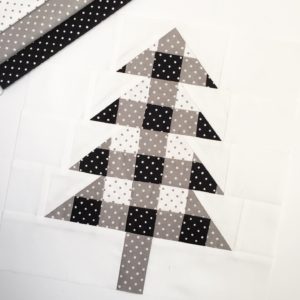 This plaid tree quilt block is from my Farmhouse Christmas pattern. The pattern includes instructions for the full quilt (shown below), along with a bonus half-sized block that's perfect for pillow covers, table runners, or mini quilt. I used the half-sized block pattern for the swiss dot tree block and love how fun it is made up into a quilted pillow cover.
Farmhouse decor has been so popular lately and I love bringing in a little plaid to my Christmas decorations, too.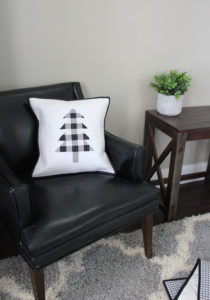 If you prefer to go with non-traditional plaid colors, Riley Blake has a ton of Swiss Dots to choose from to make your plaid trees perfect! Just choose a dark and medium shade of the color you want, add a low volume or white print, and you've got a plaid quilt block in the making.