Ready. Set. GO! It's officially the start of the Gobble Gobble Sew Along and I'm so excited to have quilters from around the world joining in!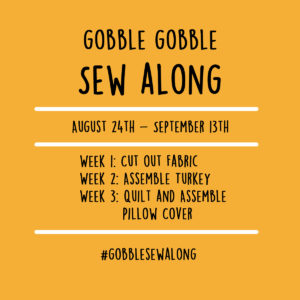 This week we are cutting out our fabric. If you're still waiting on fabric to arrive in the mail, don't worry! The cutting goes super fast and you'll be able to catch up quickly. As I mentioned last week in the fabric tips post, I used a charm pack of All Hallow's Eve for my orange prints. It made the cutting go even faster than I expected because I was dealing with smaller pieces to start with instead of trying to wrangle yardage.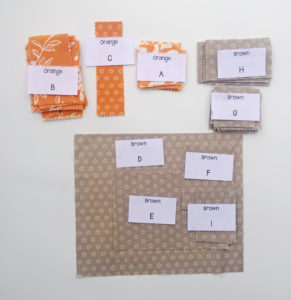 If you are working from the pattern in my Etsy shop (as opposed to the pattern in Fall 2019 Quilts & More), you'll notice that the last page has some helpful labels to cut out. I love to include these in my patterns that have lots of tiny pieces as they are really useful for labeling your pieces as you cut them out. When you have a pattern with lots of small, differing sizes of cuts, organization is key! These little notes help keep me on track (and help keep me sane, too). 😉 I usually just set them on top of the corresponding pile, but I've also pinned or clipped them to their stacks if I'm afraid they'll get blown off from an open window (or kids wildly running by).
The Gobble Gobble pattern labels include the color of fabric, size and number of pieces to cut, and the letter the piece is referred to in the pattern (although, you might notice in the photo above that I erased the dimensions of the cut pieces to encourage readers to purchase the pattern instead of just looking here to figure out the dimensions based on the photo). 🙂 The below photo shows what the labels look like.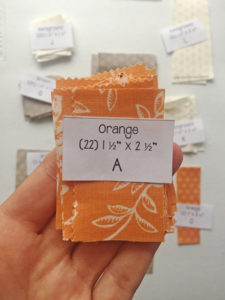 Personally, I like to wait to cut out the binding and backing/pillow back until I have the front finished. I am perpetually indecisive and always feel like I need to audition different options once the front is completed. Haha. So while I already have the front all cut out, I'll wait on the rest just to make sure my mind is made up before I commit.
As you get started cutting into your fabric, remember to post your photos on instagram with the hashtag #gobblesewalong to be entered to win the weekly prize! Instagram quilter @christine.a.sherman was last week's winner of a Gobble Gobble Pillow kit and this week, I'm giving away two bundles of six fat quarters each from the Midnight Magic line by April Rosenthal. Just in time for some more fall sewing!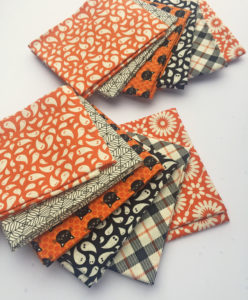 Enough talk. . . let's get those pieces cut!