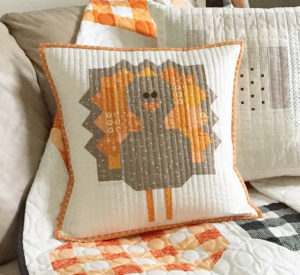 Before we get started on the Gobble Gobble Sew Along (get the pattern HERE and you can sign up for the sew along HERE), I wanted to chat briefly about the fabric requirements–particularly for the front of the pillow.
The fabric requirements for the turkey direct you to get 1/4 yard total of assorted orange prints, and you can accomplish that several different ways. For my original Gobble Gobble pillow, I used all scraps from my stash! The orange pieces to be cut are all pretty small, so they are perfect to use up some orange scraps and as a bonus, you'll get a good variety of prints to give the feathers a nice, variegated look.
Another way to get a good variety of orange prints is to cut what you need from fat quarters or yardage in your stash. If you are going for certain shades of orange, you can easily pick out your desired oranges and follow the cutting instructions using only those prints.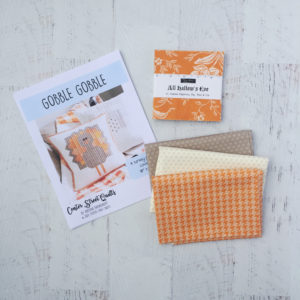 For the sew along, I've decided I'm going to be using charm squares (5″ x 5″ squares) for my orange prints. I picked up a charm pack in All Hallow's Eve by Fig Tree & Co. as I love the shade of the oranges in it and there are also a good amount of orange squares to still have a nice variety of prints.
If you'd also like to use charm squares for the orange fabric requirement, I did a little math and figured out that at the very least you need six 5″ x 5″ orange squares. However, I'd recommend using 8-10 squares to get a better variety of prints and have a little bit of wiggle room when cutting the pieces out.
For all of the other fabric requirements, I'd recommend getting yardage as indicated in the pattern. The brown fabric has one piece to cut that's larger than a charm square, so charm squares and other scraps wouldn't work quite as well for the brown fabric.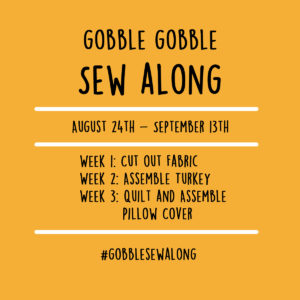 Are you joining in? We're starting on Monday, August 24th and will work on getting all of our fabric cut out that first week. Remember to post your weekly photos on Instagram using the hashtag #gobblesewalong to be entered to win prizes!
Happy sewing!