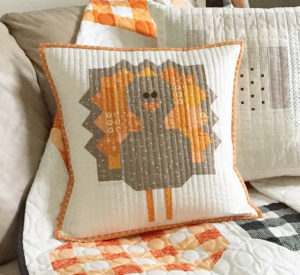 Here we are on the last week of the Gobble Gobble Sew Along! It's been so much fun to see all of your turkeys pieced together and this week we get to turn them into pillow covers. I have just a few items that might help as you get started on your pillow cover.
The Gobble Gobble pattern includes instructions for an envelope pillow back, but if you'd like to finish off your pillow with a zipper instead, you can follow this tutorial I wrote in 2019 HERE. The tutorial is my go-to method for adding a zipper to a pillow cover and is seriously so fast and easy. Plus, with this method you won't have to add binding on at the end. I'll let you decide if not having to do binding is a good thing or a bad thing-haha! Don't be scared off by the word "zipper" either! It's absolutely something that you can do!
The zipper pillow tutorial also includes info on how I like to quilt my pillow covers. For my Gobble Gobble pillow, I quilted it just as described in the tutorial–complete with using my favorite Odif 505 spray for basting and Clover Hera Marker for marking the quilting lines.
In the past I have done a lot of pin basting, but after trying Odif 505 Basting Spray a couple years ago, I pretty much exclusively spray baste my smaller projects. It's so convenient and simple to use that I only use pins if I don't have any Odif 505 around. A full step by step on how I use it can be found on my zipper pillow tutorial HERE.
I'm also in love with using the Clover Hera Marker for marking lines for straight line quilting. I combine it with a long ruler to make indents exactly where I want to quilt on my basted panel (can you see the faint lines on the right half of the turkey below?). Generally, I'll make lines 1″ apart from each other, quilt straight lines right on top of those lines, then go back quilt in between the 1″ lines to get 1/2″ quilted lines across the top (I just eyeball the lines in between by keeping my walking foot evenly spaced between the quilted 1″ lines). Now that I have my routine down for straight line quilting, it all goes pretty smoothly and I really enjoy the process.
You can, of course, hand quilt your turkey instead! I've gone that route with several pillow covers and hand quilting definitely adds such a nice touch. Below, I've included a photo of a pillow I finished just last month where I hand quilted a crosshatch design. I spray basted with Odif 505, used the Hera marker to help me keep track of where I wanted the hand quilting to go, then followed the indented lines with a needle and embroidery thread.
After quilting, you'll want to trim all three layers (pieced turkey, batting, and lining) to the same size. Don't worry if the top doesn't measure exactly 18″ when you trim. Quilting frequently causes the layers to shrink in a bit, so don't be surprised if one or both sides are smaller than 18″. I generally just trim to the edge of the top pieced section, trying my best to square up the edges as I go.
After the quilting and trimming is done, it's time to add the button eyes. Place them about 1/2″ above the flying geese beak and sew them on with a matching thread color–you don't need fancy thread or anything, just whatever you have on hand. After the eyes are on, you can go ahead and finish off the pillow by using the envelope back instructions in the pattern, the zipper tutorial HERE, or your own favorite way to make a pillow cover.
There really are so many fun options for finishing off your Gobble Gobble turkey and I've been excited to already see some finished pillow covers pop up on the #gobblesewalong hashtag! For this week's giveaway, I have an awesome bundle of ten fat quarters from the Flurry line by Ruby Star Society up for grabs. You have until next Monday, September 14th to post any progress or finished pillow photos to be entered to win.
Happy sewing!
This post contains affiliate links