The Gobble Gobble Sew Along has officially come to an end and while I'm a bit sad it's over, at least I have my cute Mr. Gobble to lift my spirits. 😉 It's been so fun to follow along with the #gobblesewalong hashtag over on instagram and I hope you've enjoyed making your own pillow cover.
Even though my turkey doesn't have his button eyes yet (I didn't have any luck at the store I checked, but will find some!) he's such a fun addition to our fall decor. Technically, I already have one Gobble Gobble pillow cover that I made for the magazine, but since we recently moved we don't have any of our seasonal things with us yet. And really, two turkeys are better than one, right?
You can see that I decided to finish my pillow off a little different than the pattern instructions said. Since my original turkey pillow was finished off with an envelope back and binding around the edge, I decided to make this one a bit different with a quilted back panel and a zipper on the bottom. I love the weight that the quilted back gives it and I had the perfect tan zipper, so I feel it was meant to be.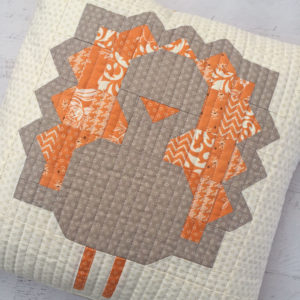 If you didn't get around to making your Gobble Gobble pillow cover with the sew along, you still have plenty of time! The pattern can be found HERE and you can be inspired by all of the fun projects on instagram by searching the hashtag #gobblesewalong.
Happy sewing!