About ten years ago I found the blog Lil Blue Boo. I was extremely inspired by everything that Ashley shared there, but was particularly enthralled by the knit clothes she made. Around that same time, a sweet neighbor gave me a serger that she never got around to using, and I knew it must be a sign that I had to at least try some knit sewing!
I purchased several of Lil Blue Boo's patterns (you can still find them on Etsy here) and particularly loved making the Sienna dress pattern when my oldest two girls were toddlers.
When I recently discovered that Riley Blake Designs turns some of their best loved prints into knits, I knew it was time to dust off the old serger! And as a bonus, I have a third girl who is now the perfect size to use the same beloved Sienna dress pattern for.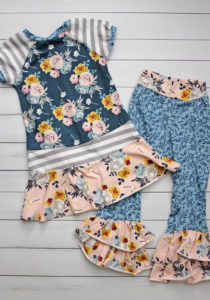 I choose several prints from the Blooms & Bobbins knit collection along with a coordinating gray and white 1″ stripe (also from Riley Blake Designs). The knits are all 95% cotton, 5% spandex (which is my favorite to sew with!) and are 60″ wide. I was glad to see that my knit sewing skills are still around and I had the Sienna dress made in just one evening! After the dress was completed, it totally needed some matching pants, so I used another favorite knit pattern (Rings of Ruffles by LilyGiggle) to create coordinating leggings.
The end result is a super sweet knit outfit. I just can't get enough of those gorgeous florals and am so glad that I took the time to revisit a past hobby.