This is a sponsored conversation written by me on behalf of Cricut. The opinions and text are all mine.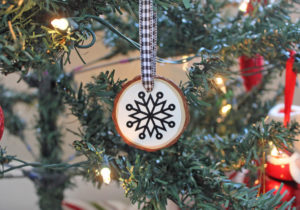 I've owned my Cricut Explore Air 2 machine for a couple months now and have loved having it around! Since I wasn't too familiar with Cricut machines or their capabilities before owning one myself, today I thought I'd share five reasons why I love my Cricut for anyone considering purchasing one.
1. My Cricut is super easy to use! I was a little nervous about the learning curve, but between the intuitiveness of it all and the useful info on Cricut's website (they have an awesome help section HERE) I've been able to easily figure out everything I need to do. My favorite useful feature is probably the dial right on top of the machine–no guessing as to what settings to use–just pick whatever material you're using and you're set to go!
2. Speaking of materials, the Cricut Explore Air 2 cuts over 100 materials! Say what?!? Now, I've only tried out about five of those 100 materials (cardstock, Premium Vinyl, Everyday Iron-on, Infusible Ink, and Adhesive Foil), but I'm adding a lot of other materials to my Cricut to-do list (like leather, window cling, and felt). The versatility blows my mind a little and I love having this handy machine and the crafting possibilities it provides at my fingertips.
3. It's a little silly how excited I was when I found out that my Cricut had Bluetooth, but Bluetooth capability means less cords! I was able to easily pair the Cricut machine to my laptop, but it also works with your Bluetooth enabled computer or mobile device (phone, tablet, etc) to make creating easier. Less cords = happy crafter. 🙂
4. There are SO MANY fun designs in the Cricut Design Space library! Seriously, go browse the designs and your mind will go wild thinking of all the fun creations you could make.
5. And one of the biggest reasons why I love my Cricut is because it allows me to make unique and personalized gifts. There's just something special about handmade gifts and having a Cricut opens the doors to so many new crafting options. For Christmas, I decided to have one of my girls help me make our neighbors some little wood ornaments. We had so much fun making them together and even more fun giving them away.
These cute little ornaments are super simple–you can easily make your own following the tutorial below.
Supplies Needed:
Cricut Cutting Mat (I used the light grip)
Premium Vinyl Permanent in black
Wood slices with hole pre-drilled
Paint one side of the wood slices with the white acrylic paint, going almost to the outside edge. This is totally optional, but I felt like it would help the vinyl stand out more.
Cut out your desired shape using the black vinyl and your Cricut cutter. My wood slices were about 2″ in diameter, so I sized my shapes to be about 1.5″ x 1.5″. Remember to set the dial on the top of the cricut to vinyl. You can find the snowflake design in Design Space here and the deer design here.
Weed out any excess vinyl using the weeding tool. We did two different designs and the deer shapes were super easy to peel away the excess vinyl, while the snowflake shapes took a bit longer. My 7 year old daughter loved to weed all those tiny pieces off, though, so after cutting the vinyl with the Cricut, I gave it to her and she went to town getting the shapes ready to transfer!
Using Transfer Tape, transfer the shapes one at a time to the wood slices. Our shapes weren't complicated or very intricate, so this process went really smoothly.
Add a ribbon to the wood slice and enjoy your darling ornament!