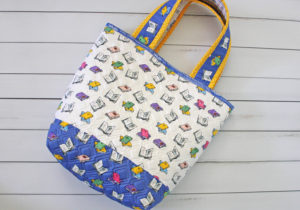 Anyone else a big fan of Roald Dahl's books? When I saw that Riley Blake was releasing a line of fabric from his book Matilda, I knew just what I had to make with it–a library book bag! We're always trying to juggle a huge pile of books in our arms as we make our way to and from the library, so this quilted bag with oversized handles will be perfect for all our future trips to the library.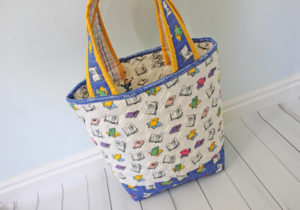 I wanted a super sturdy, quilted tote bag and wasn't aware of any patterns that fit the bill, so this project was a "make it up as you go" type of venture. I'm happy to say there was only a minimal amount of unpicking as I made my way through each step of the process. 🙂
I used the Matilda Book Toss print in blue and white for the outside of the bag and the Matilda Standing Books in white for the lining. The handles have the blue Book Toss print again along with the Matilda text print and Swiss Dots in Yellow (also from Riley Blake). The yellow swiss dots match perfectly and add an extra pop of color to the handles. Of course, I used my favorite Aurifloss 50 wt thread from start to finish.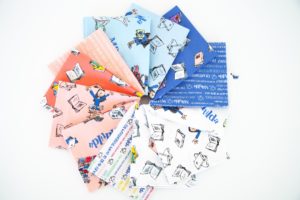 The Matilda fabric line is shipping to stores this month (November 2019). If you're a Roald Dahl fan–or just a bibliophile in general, it's a fun fabric line to show your love of the written word.