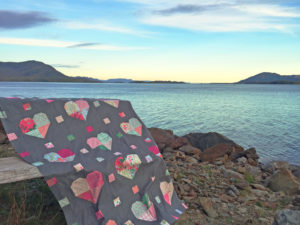 It's been a minute or two since I finished a quilt top (more like six months, actually) and this was the perfect project to get back into the swing of things! The quilt pattern is Scrappy Hearts from the book Playful Precut Quilts by Amanda Neiderhauser. When I originally flipped through the book trying to decide which one I'd like to make first, I knew this was the one. I just had to make it! Scrappy Hearts has the ease of using precuts (5″ x 5″ squares) but still gives off a wonderfully scrappy feel. Plus, that sashing?!? For once I was actually excited to do sashing on a quilt. Haha.
The fabric is New Dawn by Citrus & Mint for Riley Blake Designs and the background is Confetti Cotton Solid in Iron. Amanda's Scrappy Hearts quilt from the book had a dark gray background fabric and I loved how it really highlighted the fun fabric, so I decided to go a similar route. The pattern calls for two charm packs, but I opted to use a 10″ Stacker of New Dawn and cut half the 10″ squares into 5″ x 5″ squares. This way, I could choose prints and colors that would work well together and with the dark gray background.
Along with the Scrappy Hearts pattern, Playful Precut Quilts has an additional fourteen patterns (quilts, baby quilts, table runners, and wall hangings). Amanda was so clever in writing this book because the blocks from all of the patterns are the same size, which means that you can mix and match the blocks within the different projects! It really adds a fun way to customize your own project so you can choose the block(s) you want plus the finished size you're looking for.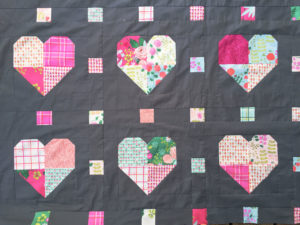 Both Playful Precut Quilts and New Dawn fabric are in shops now (yay!). You can find Playful Precut Quilts on Amazon and I've seen New Dawn popping up in several Etsy shops (and from what I hear, selling fast, too!).
Happy sewing.