The Holland Duffle Sew Along starts on Monday, March 20th. Are you joining in?
Before we get started, I want to share a little bit of information so everyone knows what to expect. If you've signed up for the Sew Along (click HERE to sign up if you haven't), then starting on Monday, March 20th, you'll receive an email each Monday, Wednesday, and Friday morning until Friday, March 31st with the day's assignment. On assignment days, I'll also share a short video on instagram (@centerstreetquilts) that will be helpful for visual learners.
The Sew Along Schedule is listed below, but you are welcome to complete the day's assignment at any time, so don't worry if you miss a day or two and need to catch up. Or feel free to work ahead if you just can't stop at that day's task. If you have a busy schedule over the next couple weeks, save the emails and bookmark the videos on instagram to come back to them when you're ready. The videos will stay on my instagram account to watch whenever you feel like it.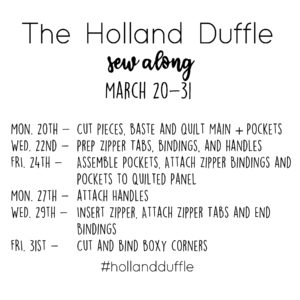 To prepare for the Holland Duffle Sew Along, make sure you have your pattern ready (click HERE to grab it if you haven't already) and gather all the supplies. If you're unsure on any of the supply requirements, I've included some handy information below to help with gathering them.
Foam Stabilizer: If you choose a foam stabilizer over batting, Soft and Stable is a great brand. You can find the 36″ x 58″ size package, which is plenty for the Holland Duffle HERE. When using batting, any low-loft batting such as Warm and Natural or Hobbs Heirloom will work well.
Fusible Interfacing: I prefer using Pellon SF101, which is available from many different sources. Click HERE for the Amazon link, but also check your local quilt shop or big box fabric store (e.g. JoAnn Crafts), as they might have it for a better price.
1″ Handle Webbing: Polypro webbing is available in a lot of different colors on Amazon HERE. Or cotton webbing (my preferred webbing if I'm not covering the handles with fabric) can be found at Georgia Girl Stitches (HERE).
Zippers: I recommend getting the larger #4.5 or #5 size zippers for the Holland Duffle. They are easier to work with (especially for the longer 30″ zipper needed for the Holland Duffle). I love By Annie Zippers by the Yard and they are available in a lot of different colors on Amazon HERE. Another favorite source of zippers is the Etsy shop ZipIt. Look for the "4.5 long-pull zippers" found HERE.
I'm so excited to get started on Monday!
-Kristina