Meet The Holland Pouch! I created The Holland Pouch pattern because I wanted a go-to quilted pouch pattern that was simple and fast: something that a even beginner could feel confident making. My requirements were: no bias binding, finished edges inside, and only straight line sewing (no curved seams). The Holland Pouch pattern meets all of those requirements and I'm so excited to share it with you!
The Holland Pouch pattern has three size options, each of which only uses three fat quarters of fabric. The pattern includes full color, step-by-step graphics walking you through every step of creating your pouch, plus extra instructions for using directional fabric (we don't want any upside down prints now, do we?).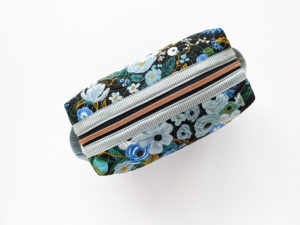 Since I want the Holland Pouch to be doable by sewers and quilters of all skill levels, I've included a little extra information on the supply requirements below. Please let me know in the comments if you have any other questions about the supply list. I want to don't want any questions unanswered!
Supply Requirements with Links to Products (below)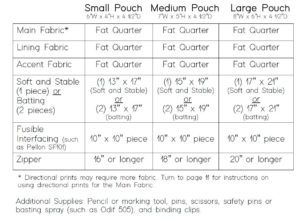 I love the feel of Soft & Stable as the stabilizer/middle layer of my pouches and bags. It's a foam stabilizer, so it provides great structure and dimension. Soft & Stable is layered in between the top/main and lining fabric, then can be basted and quilted as if it were batting.
Batting is a great alternative to Soft & Stable, and The Holland Pouch pattern is perfect for using up batting scraps you probably have laying around! To get a little extra structure to the finished pouch, I've found that adding two layers of batting works really well. The two types of batting I purchase most frequently are Warm & Natural and Hobbs Heirloom.
Fusible interfacing comes in handy when you want some extra weight and strength to a fabric, but you don't want or need any extra bulk. My favorite brand is Pellon SF101, which you can find on Amazon or at your local craft store (I purchased a 10 yard bolt from JoAnn Crafts and it has lasted for years!).
For pouch and bag patterns, I have really loved using the larger #4.5 size handbag zippers. The zipper tape is a bit wider, which gives you more room to work with, and the zipper pulls are bigger and easier to grasp. I have purchased many, many colors of By Annie Zippers and also love the YKK Long Pull #4.5 size zippers available from Zipit on Etsy. Both of these companies sell the #4.5 size zippers as either a set size (18″, 24″, 30″, etc.) or as "zippers by the yard." When I first started making bags, I was unsure of even how to use zippers by the yard, but now I'm hooked! When you purchase a zipper by the yard, you'll get a long coil of zipper tape with a handful of zipper pulls. Then you can cut off the amount of tape you'll use and manually add on a zipper pull for that length of zipper. I feel like I'm using my supplies more efficiently that way because I can cut off the exact length that I need.
If you have standard size zippers on hand, you can absolutely use those instead! I've made a few Holland pouches with regular zippers and not only do they work great, but they are also more readily available at your local craft stores. Zipit on Etsy also has a large selection of standard size zippers in a wonderful array of colors (and great prices, too!).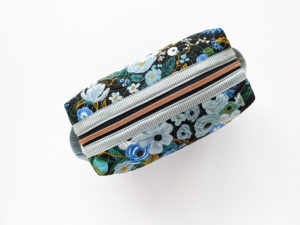 You can find The Holland Pouch pattern in my Etsy shop by clicking the link on the button below.
I'd love to see your own Holland Pouches! Please tag me on social media with your photos (@centerstreetquilts on instagram) and use the hashtag #thehollandpouch so others can easily find your Holland Pouch, too.
Happy sewing!