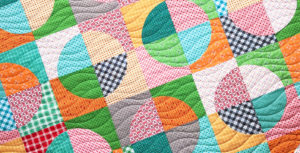 Have you tried sewing curved seams yet? I feel like it's one of those things that people dread until they try it, then they decide "Hey, that wasn't so bad after all!" I have long been a fan of curved piecing and love to spread the awareness of how misunderstood sewing curves can be. So after I thoroughly enjoyed sewing this fun Scrappy Circles quilt, I decided to turn it into a free tutorial!
If you haven't tried curved seams yet, this is the perfect time to grab some scrap fabric and give it a go! After looking through the step-by-step photos in the tutorial below, you'll see that they really aren't anything to be scared about. And with this Scrappy Circles design, each quarter circle finishes at 7″ x 7″, which is a great size to start with!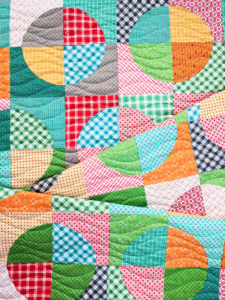 Just a few details before we get to the tutorial:
For my quilt, I used an AccuQuilt Die Cutting machine with the GO! Drunkard's Path 7″ Die. It makes cutting a breeze, but it's certainly not the only way to cut out the curved pieces. For those that don't have access to an AccuQuilt machine, I also have a printable template that you can print out and use. Yay!
The fabric in my Scrappy Circles quilt is Lori Holt's Bee Plaids line from Riley Blake Designs. The retro color scheme and various plaid designs worked perfectly with the Scrappy Circle quilt. And since the quilt top is meant to be truly scrappy, there's not a lot of planning that needs to go into it–just grab the fabric pieces and start sewing!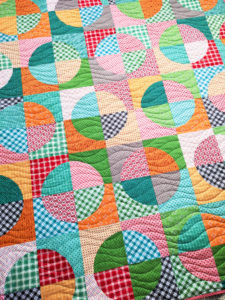 Let's get to the tutorial and start sewing!
Drunkard's Path Scrappy Circle Quilt Tutorial

Finished Quarter Circle Block Size: 7″ x 7″
Finished Full Circle Block Size: 14″ x 14″
Finished Quilt Size: 56″ x 70″
Fabric Requirements:
(20) 1/4 yard cuts
Binding: 5/8 yard
Batting: 64″ x 78″
Backing: 3 3/4 yard
If not using the AccuQuilt GO! Drunkard's Path 7″ Die, download 7″ Finished Drunkard's Path Scrappy Circle Template below:
Scrappy Circle 7in Block Template
Note: When using the printable template above, make sure your printer is set to print at "Actual Size" or "100%" (not "Fit to Page" or "Scale"). There is a 1 inch line on the pattern page that can be used as a reference to make sure the templates have printed out at the right size. Cut out the template pieces on the solid line (which includes the seam allowance). You can create sturdier template pieces by transferring the paper pieces to template plastic or a thick piece of cardboard.
Cutting Instructions:
1. Using either the GO! Drunkard's Path 7″ Die or the Template provided above, cut out (4) A units (inner circle) and (4) B units (outer curve) from each of the (20) 1/4 yard cuts. This should yield a total of (80) A units and (80) B units. Note: since the pattern pieces are symmetrical, you don't need to worry about whether the right or wrong side of the fabric is up when you cut (yay!).
2. From the binding fabric, cut (7) 2 1/2″ x WOF strips.
Assemble the Blocks:
1. Lay out one fabric A unit and one fabric B unit. If using the printable templates, fold each unit in half along the curve and finger press to mark the half-way point along the curve. If using the AccuQuilt shapes, the darts along the curves mark the half-way point for you.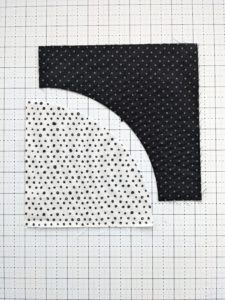 2. Flip the B unit onto the A unit (right sides together) and place a pin through the center points of both fabric pieces.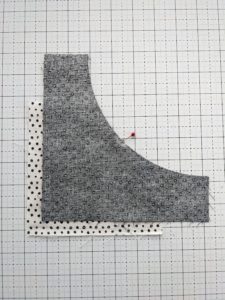 3. Work your way to the outer edges of the curve by placing pins through both pieces of fabric. The inner circle piece should lay flat while the outer circle piece will start to ruffle. Make sure the outer circle piece is laying as flat as possible at the seam line–ruffling further out is just fine.
4. Slowly sew a scant 1/4″ seam along the curved edge. Remove pins as you go and make sure that the outer circle background fabric is laying flat along the seam (you don't want it to end up with a pucker in the seam).
5. Press the seam toward the inner A unit. The quarter circle unit should measure 7 1/2″ x 7 1/2″.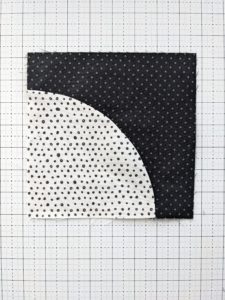 6. Repeat the same curved seam process with the remaining A units and B units to yield a total of (80) quarter circle units.
Assemble the Quilt Top:
1. Layout the blocks in ten rows, each with eight blocks (8 x 10 grid) as shown below.
2. Assemble the rows, pressing in alternate directions. Sew the rows together, pressing all seams down.
3. Baste, quilt, and bind the quilt top as desired.
There you have it, a perfectly scrappy, circle quilt! Thanks for following along and if you've been on the fence about sewing curved seams, I hope this will give you the confidence to try. If you make your own Scrappy Circle quilt, please tag me on social media so I can see. 🙂
Happy sewing!