I'm so very excited to introduce my new pattern: The Sock Quilt!
The Sock Quilt is a throw size, beginner friendly quilt pattern that finishes at 66″ x 82″. There are three different sock blocks in the quilt–the Classic Sock, the Striped Sock, and the Toe + Heel Patch Sock. The variety of blocks plus the fun fabric options makes the quilt extra enjoyable to sew. There's no time to get bored, since every single block is unique!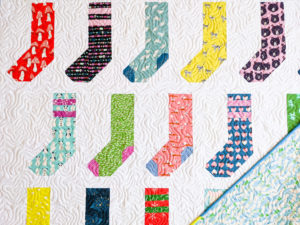 The Sock Quilt is perfect for all those great prints you have in your stash that you haven't known what to do with (hello, fried eggs fabric!). In my sock quilt, I have lots of animal socks (my personal favorite), Halloween and Christmas socks (we all love holiday socks, right?), and a bunch of super quirky socks (octopus and mushroom socks for the win!). Really, anything goes for The Sock Quilt. Plus, the stripes and toe + heel patch pieces are great for digging in your scrap bins! With the large variety of prints, The Sock Quilt ends up being a super fun I-Spy Quilt that little (and big) eyes will want to search over and over.

You can find The Sock Quilt as a digital download in my Etsy shop HERE. The pattern is all traditionally pieced (no paper piecing or templates) and has color illustrations to walk you through every step of the process.
And if you want to get going right away on making your own sock quilt, please join me in The Sock Quilt Sew Along! I'll be hosting the sew along on Instagram and I'd love for you to make a quilt alongside me!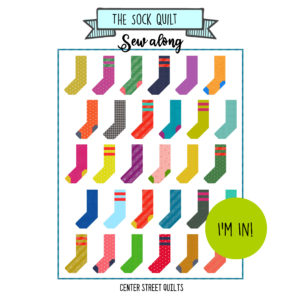 We'll start The Sock Quilt Sew Along on Monday, May 17th, and will be working our way through cutting the fabric, sewing the blocks, and assembling the quilt top before we finish toward the end of June. Right now, you'll just need to grab your pattern HERE, sign up for the sew along HERE (completely free), and start choosing some fabrics for your socks! Plus, when you post your progress photos to Instagram , you'll be entered to win some awesome weekly prizes!
I hope you'll join me!
Kristina