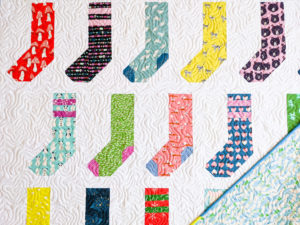 We're down to a little more than a week before The Sock Quilt Sew Along starts and I wanted to share a fun freebie–a printable coloring page plus schedule! Print out the schedule to follow along with each week's tasks and color in the socks as you complete the blocks. Because who isn't motivated by a color-as-you-go schedule?!?
Click on the link below to download your copy of the schedule and coloring page.
The Sock Quilt Schedule and Coloring Page
As you complete your sock blocks, you can also use the full page coloring sheet to plan out where you want each block to go. Or just bring it along to your next doctor appointment as a way to pass the time. 😉
Remember to sign up for the sew along (click here to sign up for free). I'll be sending out weekly emails with the week's assignment along with some tips and tricks to help you along.
In the meantime, keep gathering your fabric for the sew along. I'm excited to start cutting on May 17th!
Kristina