Every month, Aurifil gives a challenge to their Aurifil Artisans. This month, we were challenged to use Aurifloss or 12 wt Aurifil thread on a project. I use 50 wt Aurifil thread pretty much every time I sew, but am much less familiar with the thicker Aurifil options, so I was excited to gain a little experience with a different weight thread. 🧵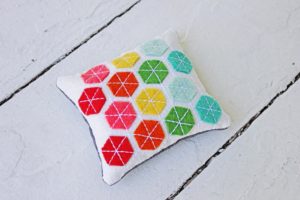 I decided to mix these yummy wool felt colors from Riley Blake Designs with 12 wt Aurifil to create a modern hexie pincushion (inspired by Modern Handcraft's work). To be honest, I wasn't quite sure how things would turn out, but I was pleasantly surprised by how easy it was to use the 12 wt thread! I kept my regular 50 wt Aurifil in the bobbin, kept the same needle and just lowered the tension a bit for the top thread.
The mix of the wool with the thicker stitching gives such a great texture! I'd love to experiment a bit more with wool + 12 wt Aurifil on another project, so don't be surprised if you see more of this combination from me in the future.