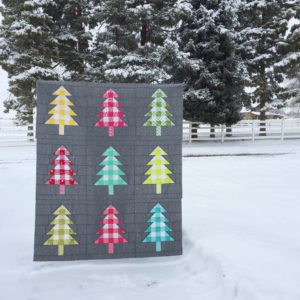 Since Thanksgiving I've been on a mission to finish some of the quilt tops I have been working on. The first quilt on my list was this fun Farmhouse Christmas quilt in a colorful, cheery colorway (I called it my Merry and Bright Farmhouse Christmas quilt). The photo above is what it looked like at this time last year–the quilt top was finished, but I didn't make it farther than that.
I quilted it in this fun geometric design called Compass. The design reminded me of retro stars that would go on top of the Christmas trees.
The backing is a green Cotton + Steel deer print–I just love those cute deer! For the binding, I chose a fun Cotton + Steel snowflake print. I didn't use it anywhere else in the quilt, but it was too perfect to not use.
I even took the time to hand bind the quilt (I usually machine bind them). I had the perfect Aurifil thread on hand–Blossom Pink (#2530)–and got to watch some of the Great British Baking Show while I was at it.
I love how this Farmhouse Christmas quilt turned out and love that we have another fun Christmas quilt to snuggle this winter.
You can find the Farmhouse Christmas quilt pattern in my Etsy shop.