One of my favorite fabric designers is Elea Lutz. Elea has such sweet designs; combining charming florals and cute little animals to create irresistible fabric collections. I'm always eager to see what she's working on and I'm excited to join in the blog tour of her latest collection with Riley Blake Designs, Milk & Honey.
Along with Elea's usual stunning floral and animal prints, Milk & Honey includes a fabric panel with oversized metallic designs that are perfect for a variety of projects. I used my panel as centers for simple courthouse steps blocks and love the result.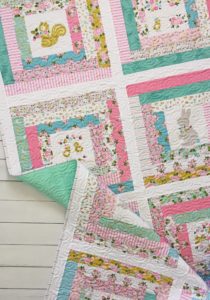 The individual designs on the panel were each 8″ x 8″ to start, so after cutting out the fourteen panel designs, I chose twelve to use as the centers of my blocks. Using other prints from the Milk & Honey fabric line plus a few Riley Blake basics (pink and white Stripes, Blossom in Peony, and Shabby in Cottage), I added 2-1/2″ strips around the outside of the center panel to make twelve 20″ x 20″ blocks (with an 8″ x 8″ center, each block needs (2) 2.5″ x 8″, (4) 2.5″ x 12″, (4) 2.5″ x 16″, and (2) 2.5″ x 20″ strips).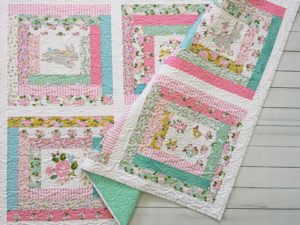 The quilt was finished off with a loopy quilting design called Knit 1 Purl 2 and bound with a subtle stripe from Milk & Honey. I think I might just have to claim that this is our official Easter quilt this year–the colors and cute animals remind me of a happy Spring day.
Milk & Honey is available in stores now, so ask your local quilt shop about it!