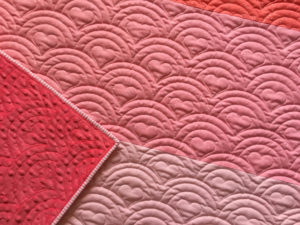 Are you ready for the easiest ever baby quilt? Meet the Ombre Blossom quilt! You better get your iron turned on and warmed up now because you'll have the quilt top together before it has time to heat up all the way! 😉
The Ombre Blossom quilt top takes just four half yard cuts of fabric (I used Raspberry, Lipstick, Peony, and Baby Pink Blossom prints from Riley Blake). Trim the half yards to 15.5″ x 42″ strips and sew the strips along the 42″ sides from lightest to darkest (or whatever order you like). 🙂 That's all it takes and you have a 42″ x 60″ baby quilt top ready to be quilted!
For my pink Ombre Blossom quilt, I used Dreamy Dimple Minky in Peony for the backing, quilted it with the Rainbow Hearts digital quilting design (available from Intelligent Quilting), and added a sweet light pink binding (Riley Blake 1/4″ stripe in Baby Pink).
If pink isn't your thing, you're in luck because Riley Blake has over 60 colors of Blossom! An Ombre Blossom quilt in blue or green would be just as perfect–or just choose four of your favorite colors for a fast and fun baby quilt.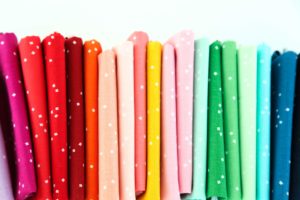 If you make your own Ombre Blossom baby quilt, please tag me on social media using the hashtag #centerstreetquilts!
Happy sewing!