Ode to a Nine Patch Block
Roses Are Red
Violets Are Blue
I love a nine patch
And I hope you do, too!
Nine patches are such a classic quilt block. They are no fuss, simple, predictable, but oh so versatile and fun! So when Amanda from Broadcloth Studio had the genius idea to do a Quilt Block Soul Mate quiz and asked me to contribute a block option, I knew I wanted to go with the nine patch (because, let's face it–I can relate to the nine patch block because I'm simple and predictable, too). 😉
If you haven't taken the Quilt Block Soul Mate quiz yet, you can check it out HERE and let me know what quilt block you've matched up with! It's no surprise that when I took the quiz, I was matched up with the nine patch block! Haha.
Since I love nine patch blocks so much, I thought it would be fun to do a little round-up of some great nine patch tutorials and patterns that I've been admiring. So sit back, relax, and let's see just how awesome the nine patch block is!
Nine Patch Quilt Block Tutorial by Simple Simon & Company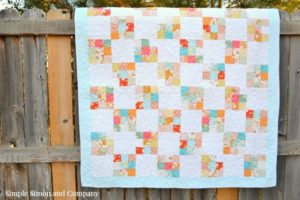 Nine patch blocks are just a grid of 3×3 squares, but have you ever tried strip piecing them? Simple Simon & Company has a great tutorial to show you how to quickly make nine patch blocks by strip piecing 2.5″ precut strips. It's such a great time saver! You can check out the nine patch block tutorial HERE.
Basic Irish Chain Quilt Pattern by Andy from A Bright Corner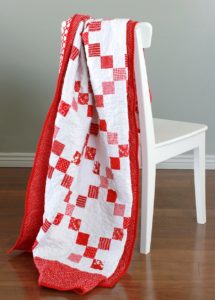 One thing I love about the nine patch is that you can pair it with solid squares and you suddenly have an Irish Chain quilt! Andy from A Bright Corner has a great pattern to show you just how easy it is to make an Irish Chain Quilt. Check out her free printable pattern HERE.
Disappearing Nine Patch by RebaLeigh Handmade
If you haven't seen or heard of a Disappearing Nine Patch, you'll have to check this free pattern out! Someone, somewhere had the brilliant idea to make a nine patch, cut it in half both ways, reposition the pieces, and sew them back together to make a new design. It's so clever–and fast, too! Head to RebaLeigh Handmade's blog for her free printable pattern, First Crush Charm, that goes over the disappearing nine patch block step by step.
Nine Patch Plus Quilt Pattern by Center Street Quilts (me!)
It's pretty much obligatory that I include one of my own patterns in this round-up, right?!? I designed this Nine Patch Plus pattern to be a scrappy, modern mashup of a nine patch block and a plus block. So if you're looking for something off the beaten path, check out my Nine Patch Plus quilt pattern HERE.
Star Patch Pattern by Gigi's Thimble
Looking for a nine patch quilt with a twist? The Star Patch pattern from Gigi's Thimble has darling nine patch blocks set on point around a jumbo star. Super cute, right? You can find the Star Patch pattern HERE.
After seeing all these fun nine patch patterns are you just as pumped about nine patches as I am? My scrap fabric pin is just begging me to make one or two of these! 🙂