Welcome to my stop on the Rainy Day Sewing Book Tour! Rainy Day Sewing is the darling new book from Amy Sinibaldi and Kristyne Czepuryk. The book includes full instructions and colored graphics for a delightful range of objects: quilts, softie dolls, pouches, totes, and more. The photos are inspiring and the projects are full of charm.
I seriously wanted to make all of the projects, but finally settled on the Thimble Basket. I fell in love with the tiny patchwork pieces on the side, hand-stitched binding, and the cute little handle.
A bundle of blues, tans, and whites I recently purchased from Handmade is Heartmade was the perfect serene color palette and I just had to throw in some light blue plaid from Amy's Les Petits line for the bottom of the basket.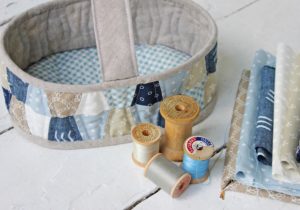 My copy of Rainy Day Sewing is sure to get a lot of use–after all, there are still seventeen projects left for me to make! 😉
Faith Essenburg and Ange from A Little Patchwork have shared their Rainy Day Book Tour projects on their blogs and you can follow along with the other talented makers with the Book Tour Schedule below.
Happy Sewing!