We made it to the last week of the #fallingforfpp sew along on Instagram. I've had such a fun time seeing everyone's blocks and hearing from quilters who have tried foundation paper piecing for the first time!
For the final week of September, I have one more free FPP block to share: Pumpkin Patch! This block is a little more advanced than the previous free patterns I've shared, and hopefully it will help you stretch your FPP skills a bit.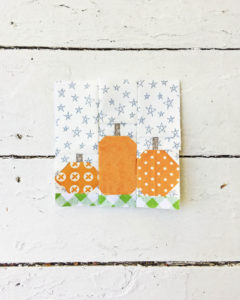 The Pumpkin Patch Foundation Paper Piecing Pattern comes with three size options: 3″ x 3″, 6″ x 6″, and 9″ x 9″. The photos here show the 6″ block pattern, but I'm hoping someone will try out the itty-bitty 3″ block pattern and share a photo with me. 🙂
Click on the link below to download the Pumpkin Patch pattern.
If you're participating in the sew along on Instagram, remember to use the hashtag #fallingforfpp. We still have some pretty awesome prizes up for grabs, so I'm looking forward to seeing all of the FPP blocks that you make!
Happy sewing!