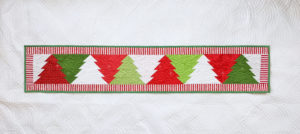 Have you checked out my free Christmas Tree Table Runner tutorial yet? A couple weeks ago I had an idea for a fun multi-directional Christmas Tree block and knew it would be perfect for a table runner since there are right-side-up trees when looking at it from either side. After all, we want to enjoy our table runners from both sides of the table, right?!?
I had so much fun making the first table runner that I quickly whipped up another one–this time in basics from Riley Blake Designs. I chose my favorite red, green, and low volume prints, and while none of the fabrics are specific to Christmas, they work fabulously together for a festive table runner. That's what I love about using basics: they are so versatile!
Within the Riley Blake Basics options, I used many different prints from the Kisses, Swiss Dots, Pin Dot, Textures, Bee Cross Stitch, Shabby, and Stripes collections. From the start, I knew I wanted the 1/4″ Red and White Stripe print as a border (I actually used it on both of the table runners I made!). It's graphic, bold, and definitely reminds me of candy canes. Perfect for a Christmas table runner!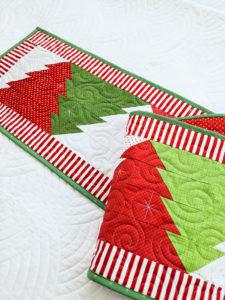 For the quilting, I used a digital pantograph called Midnight Sparkle and just love how it goes so well with the fabric and block design.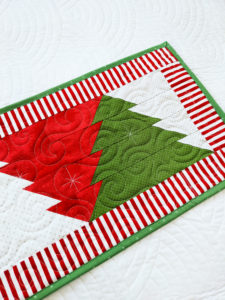 As I was making this table runner, I couldn't help but remember why I LOVE sewing table runners: they are so quick and fulfilling! You can complete the entire project in a weekend (or day if you don't have interruptions). 😉
You can find the free tutorial HERE and make a Christmas Tree Table Runner of your own!
Happy sewing!
Kristina